News
August 22, 2018

NSS Paperclips: On That Note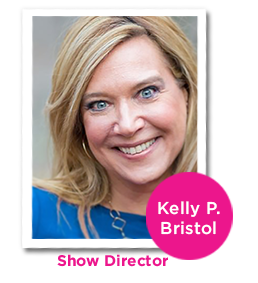 Get ready! Buyer registration for NSS 2019 opens in September. As previously announced, the NSS is moving to February to co-locate with NY NOW's winter market.
The NSS will remain the Show you love, with its own unique, stationery-focused products and fresh and one-of-a-kind lines, with products and ideas you won't see anywhere else. For buyers, the co-location with NY NOW means you'll have access to even more great products and services than ever before. NY NOW features 2,300+ exhibitors and aisles of creative, trending collections. Plus, your NSS registration will allow you to access NY NOW's educational offerings and much more. Your NSS badge will be all you need to experience the entire market.
As an exhibitor, the co-location means that your products will be seen by an even greater number and broader range of retailers. NY NOW attracts some 20,000 buyers to the Show, with more than 9,000 of them indicating a primary interest in greeting cards, stationery and related products.
Numerous NSS exhibitors are already signed-on for the February Show, including: Allport Editions, American Crafts, Baltic Club, Frog & Toad Press, Haute Papier, Huckleberry Letterpress, IG Design Group Americas, Inc., Legion Paper, Merrilulu, Mountaincow, Old English Company, Paper Row Cards, Pickett's Press, Printswell, Quick Brown Fox Letterpress, Retro 1951, Sakura of America, The Good Twin, The LANG Companies, Trend Wedding & Events, Uchida of America, Xonex and many more.
We're also working with many new companies joining the Show for the first time and can't wait to tell you about them, as well.
Exciting times are just ahead!


The Container Store
The Container Store is a leading retailer of storage and organization products – a concept it originated in 1978. Today, with more than 90 locations nationwide, it offers more than 11,000 products designed to help customers accomplish their storage and organization projects and maximize any size space. The Container Store also offers a variety of stationery and office items. Buyer Emily Holt – who serves on the National Stationery Show's Advisory Board – shares additional details about this retail chain:
1. This year, The Container Store celebrates 40 years of helping customers solve their storage and organization challenges nationwide.
2. The Container Store has been ranked as one of Fortune magazine's "100 Best Companies to Work For" for the past 19 years.
3. The Container Store's Next Generation Store opened in Dallas this past June. It features a whole new look and customized, digital resources that make it easier for customers to accomplish their projects. This will be used as a test-and-learn environment for potential rollout to new and existing stores.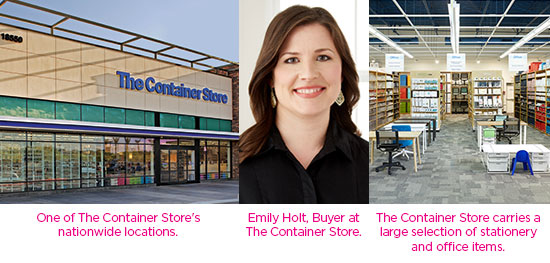 4. More than 11,000 innovative and multifunctional solutions are offered to help customers maximize space and to tackle any size project. We carry more than 1,300 gift packaging SKUs everyday. This includes gift wrap, ribbon, tags, stickers, tissue paper, gift bags and small decorative containers. At Christmas, we carry more than 1,100 additional items in those product categories.
5. The holiday "Gift Wrap Wonderland" is one of the most anticipated times of year at The Container Store.​​

What's your best-selling item for kids, and why?
"Ben the Rooster's best-selling item is the boxed set of Thank You Cards, which comes with 10 cards, 10 envelopes and 10 stamps, and is available in four designs. Ben has designs for birthdays, for holidays and for those just-because moments. The cards do well because parents are emphasizing gratitude. These are a personal, fun and easy (stamps included!) way to say 'Thanks!'"

– Jason Sosnovsky, Creator, Ben the Rooster and Ben's Paper Shop, an Atlanta-based pen-pal program and stationery company with products for kids by kids, that donates 50% of profits to schools and encourages literacy through its free Ben's Letter Club.
"Currently, our best-selling items are anything with llamas. We suspected this because the llama trend is huge right now. We see llamas on kids' and adult fashions, home décor, stationery, etc."

– Ranhee Butler and Saewon Hoang, Designers + Co-Founders, Merrilulu, a Larchmont, NY-based maker of kids' party décor that is well designed and easy to execute, to make memories, not stress.
"Currently, our top-selling children's item is the 'Scratch and Sketch Unicorn Adventure' art activity book. While we have several Scratch and Sketch titles that are all vying for the top-five position ('Mermaid Adventure,' 'Under the Sea,' 'Furry Friends,' etc.), right now anything unicorn has been selling quickly. Who wouldn't love an adorable story with an enchanted castle featuring a magical unicorn? The scratch-off sheets feature holographic foils and rainbow swirls that keep children and adults occupied for hours. Plus, all of our products are high quality as well as a great value."

– Claudine Gandolfi, Sales & Marketing Manager, Peter Pauper Press, Inc., a family-owned and -operated company based in White Plains, NY, that produces more than 300 stationery-related items yearly.

Cool for School
School is back in session (or about to be) across the U.S., but there's still time to stock up on students' stationery needs for the fall. From cute lunchbox notes to beyond-the-ordinary pens and pencils, you can find plenty of fun, useful and on-trend items from NSS exhibitors that will help set your store apart from the big-box merchants.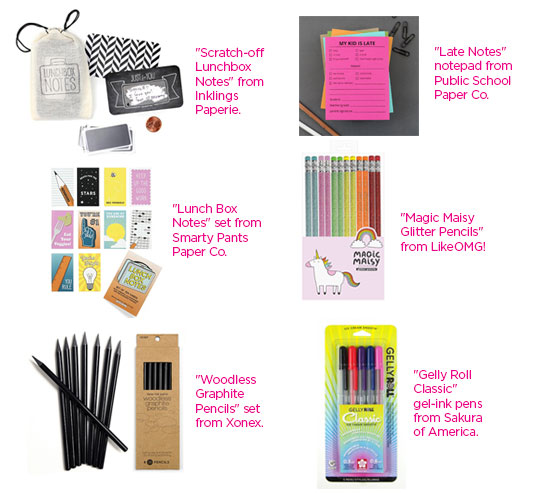 "40 Under 40" Are Revealed
Stationery Trends and its sister publications, Gift Shop and Museums & More, have named the 2018 recipients of its "40 Under 40" Awards. This program acknowledges the new generation of gift industry extraordinaires, from shop owners and managers to stationers and company founders. Among those honored this year are Lisa Mattison Roberts, owner/president of Rock Paper Scissors; Sadie Piller, sr. merchandise manager at Paper Source; Jamie Grobecker, founder of Sugar Paper; Courtney Cochran, design & marketing director, Hester & Cook; Taylor Hamilton, founder/illustrator, Tay Ham; and Randi Mohr, v.p./group show director of Emerald Expositions. Congratulations to all!